Sometimes it's important to clear your cache in Internet Explorer in order to restore full functionality of the PEPFAR SharePoint site.
The following article reviews step-by-step instructions for clearing your cache in Internet Explorer 7, 8, 9, 10, or 11.
Scroll to the bottom of this article to view or download as PDF.
How to Clear Your Cache
Step 1
Open Internet Explorer.
Step 2
For IE 9, 10, & 11: In the upper right corner, click the small gear icon (to the right of the star icon) and choose "Internet Options."
For IE 7 & 8: From the Tools menu, select" Internet Options."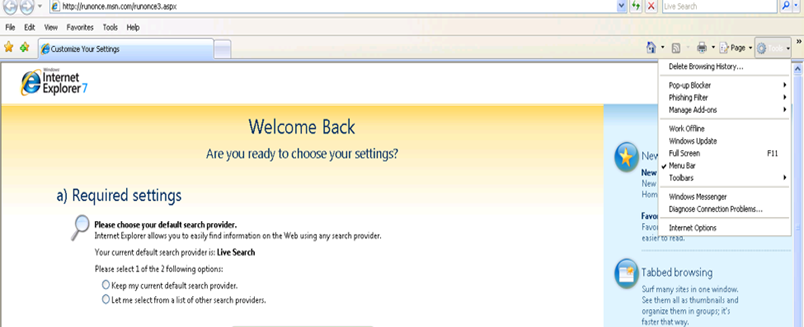 Step 3
On the "General" tab, under "Browsing History," click "Delete."
IE 9, 10, 11:
IE 7, 8:
Step 4
IE 9, 10, 11:
Un-check the Preserve Favorites website data box.
Check the boxes for:

Temporary Internet files
Cookies
History

The Download History, Form data, Passwords, and inPrivate Filtering data boxes may be left un-checked. You can check them to delete this data if you so choose.
Click "Delete"
IE 7, 8:
Temporary Internet Files: click "Delete Files"
Cookies: click Delete cookies
History: click Delete history
Then click "Close"
When finished, click "OK" to return to your Internet Explorer window.
Step 5
Make sure you are logged out of https://www.pepfar.net/. Close the Internet Explorer window and restart your computer.
Step 6
After restarting your computer, open IE again and type in https://www.pepfar.net/ (do not use bookmarks).