What is Versioning?
When versioning is enabled in your SharePoint library, you can store, track, and restore files in a library whenever they change. Versioning, combined with other settings, such as checkout, gives you a lot of control of the content that is posted on your site and can provide real value if you ever have a need to look at or restore an old version of an item or file. By default, versioning is enabled for every document library in the PEPFAR SharePoint community.
How Does Versioning Work?
Each time a document is uploaded to a specific location with the same name, the system will create a new version. The system is set up to create 10 minor and 10 major versions. When a document is first uploaded, it will be in "draft" status and its first version will be a Minor version V0.1. Each time the document is updated and saved as a draft, the version will change to v0.2, v0.3, and so on.
When a Member-Approver (user with approver privileges) approves a document, a Major version is created. The first Major version is called v1.0.  If the document is updated after being approved, it will revert back to draft status and the version will be v1.2. When the document is approved, it will become version v2.0.  Users with read-only privileges can only see the latest approved version.
How can I review a previous version of my document?
Step 1
You can review the version history of a document by clicking the three dots to the right of the file name.  In the pop-up window, click the three dots again. This will illuminate the drop-down menu pictured below. Click "Version History:"
Step 2
After selecting "Version History", the below window will appear. Here you can see several details about the document, including who modified it and any version comments.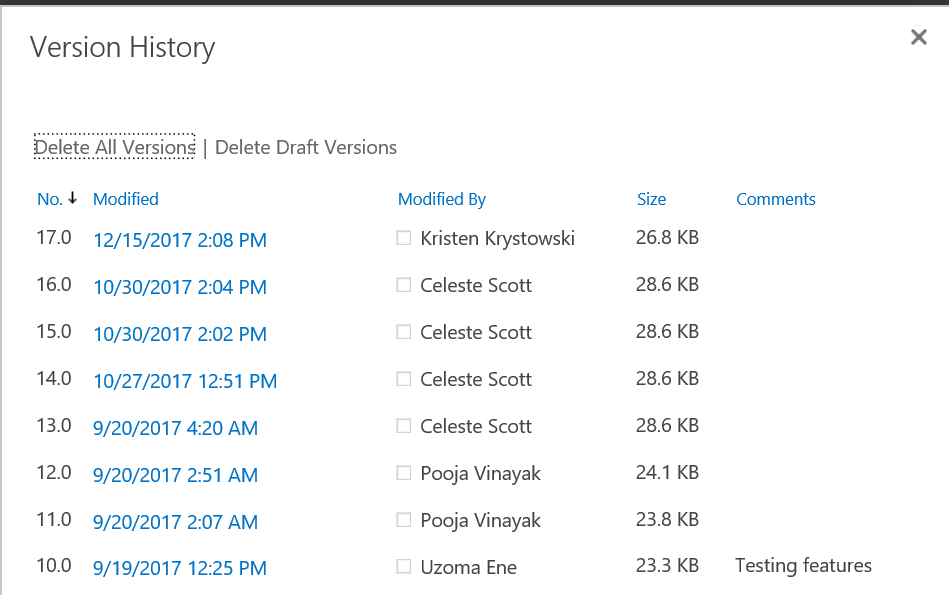 Step 3
Moving your cursor over a file name will illuminate a drop-down menu on the right side of the file. From this menu, you can view that version of the document, restore an older version, or delete it.